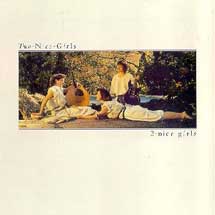 THE SWEET POSTCARD
Words by Barbara Hofrenning
Music by Gretchen Phillips
Ah, do you know
How much I love you?
I woke up one morning
With this dream:
There are two people I love
Two people I love,
And there you were
I don't know who the other one is
I wish that I did
You are like a canoe
A wooden canoe
And I get in and paddle
We are in the river
Your blood flowing
On this same continent
Makes my own heart happy
I could lick your cheek
And bite your nose
Every atom of your being
Is appreciated by me
I hold your being up to the light
To see right through,
To see right through
GOONS
Written by Gretchen Phillips
My darling does what she likes
My love likes what she likes
Now she's playing on the beach
Now she's in the hotel bed with me
She's got her feet firmly
On the ground
She's got her hands raised high
She's got her hair in the air
And her eyes up there
The clearest person that I know
Arms and mouth that bring me home
But enough said of me
I want to talk about her now
Now she's sleeping
Now she's crying
Now she's moaning out loud
Now she is remembering
She gives it all away for free
And I give it back evenly
When she learns to ask for more
Her heart will then explode
Now she's remembering
Now she's feeling
It is not dark
It is not light
It is just right
MONEY
Written by Laurie Freelove
She went along for
The ride to comfort
She didn't know that
Her life was lonely
She hadn't been too long alone
When she took a look around
And couldn't find it
But wanted for it
The thing inquired
But it had no name
No sign at all
To show the way
(Chorus)
They told her money
They said it's money
You need it money
Feel good with money
A slave to money
Money
And so she swore
On the ride to comfort
And stared inside its colder moments
But couldn't see
What she would not feel
And then the world pressed out
Flat no angles
She listened to it through
A vacant language
Moving 'round through its dull
Dark terrain
No light at all
To show the way
(Chorus)
Oh, she's got one line left to be spoken
Her voice speaking softly
She must listen
To hear it well
And when the ride slowed
Worn and weathered
Moving on through a place that never
Gripped her heart or took some soul
No thirst for being
No deals with hunger
No chances taken
A life like stone
Every dream to have
Just a dream on hold
No where to go
No way to go
(Chorus)
MY HEART CRAWLS OFF
Written by Gretchen Phillips and Sara Hickman
I just called the operator
She said that your phone was busy
So I started crying
But I stopped
It just made me dizzy
I know that you're talking to her
Like you used to talk to me
Ya'll have probably gone so far
That she's seen that mole
On your knee
(Chorus)
Every time that you touch me
I see her in your eyes
And then a little, little part of me
It crawls off and dies
Everybody's telling me
That you've put me on a shelf
They're all saying
"Just forget it Gretchen"
'Cause she loves somebody else
I know I must face that sad truth
You don't love me anymore
But it hurts my little heart
That you are such a bore
Whore!
(Chorus)
I saw you two down at the malt shop
The way you were carrying on,
I just wanted to make you stop
No, no it's not something in me like
Foolish pride,
Don't you two see
How you're killing me
Inside?
(Chorus)
But I'll love you
Forever
I SPENT MY LAST $10.00
(On Birth Control & Beer)
Written by Gretchen Phillips
When I was a young girl
Like normal girls do
I looked to a woman's love
To help get me through
I never needed any more
Than a feminine touch
I hated the thought of kissing a man
It really was too much
I did not drink, I did not smoke
I did not say "goddamn"
I was polite, I was sensitive
Before I loved a man
My family, they were proud of me
Were proud of what I am
But then along came Lester
And my tale of woe began
(Chorus)
I spent my last ten dolars
on birth control and beer
My life was so much simpler
when I was sober and queer
But the love of a strong hairy man
has turned my head, I fear
And made me spend my last ten bucks
on birth control and beer
It was June of 1983
When Mary Lou and I did part
She said she loved another dyke
My god, it broke my heart
I was bitter and disillusioned
To lose another girlfriend
Lester came to work at Papa's store
And decided to ease on in
Before that last heartbreak
Nothing made me more sick
Than a hairy-chested
Cheap double-breasted
Suited man with a hard dick
I guess that I was curious
I guess that I was young
I guess it was that rum and coke
I guess that I was dumb
(Chorus)
For of course, for a woman
To love a man
She must also love to booze
If a woman don't drink
Beside her man
Then she will surely lose him
As I sit in this hetero honky-tonk
And reflect upon my past
I think about those girlfriends
And why they did not last
For there're certain thrills
That lesbian love
Simply cannot supply
Like paying for abortions
From sperm gone awry
And so I say to you my friends
Without this man I'd die
So listen to my tale of woe
And hang your head and cry
(Chorus)
LOOKING OUT
Written by Laurie Freelove
It's a type
It's a kind
It's a loan of love
Looky here
This ticker bare
A heart on loan for love
If anyone
Took a bite
There'd be none to spare
Cooler now
Come about
Don't turn your face away
You talk alot
And move around
But you seem what you say
Do it all
Go alone
Just take one look my way
(Chorus)
I turned around
I saw her
Just standing there
I could be
All night again
Just looking out
So, she said
So I see
I've heard this all before
Upon a time
Long ago
In fact, i know for sure
A photograph, a colored charm
A thousand things say so
Crazy eyes
Holy heat
Tonight won't waste away
Waiting out
Tough as nails
On ground as soft as clay
The two of us staring through
A mist as thick as rain
(Chorus)
There she was
Standing under the pale patio light
It was yellow
Against the heat and black
Of intense August drain
She stood there smoking
While I watched it rise,
Rise in the air
HEAVEN ON EARTH
Written by Laurie Freelove
There's light
And it plays in every shadow
While the moon,
Well it tugs at ocean tides
And there are roots
Growing underneath the gravel
This is life, eternal on the prowl
And it's born into our living
Like a breath of ancient wild
We're anchored to its wisdom
We're in the orbit of its power
Somehow
Oh, but somehow
(Chorus)
We are still longing
Soul after soul
Dancing in shadows
That fall from the moon
We are still yearning
Touch after touch
Reaching to heaven
For what's here on this earth
Here on this earth
All that binds this fate to us
Is hidden away in
Gods and flags and walls of faith
That fear has some place
But fear has no place
Not on this earth
There is love behind an angry eye
And there is hope
Inside a fearful heart
And this is truth
Just waiting to unravel
Our lives, eternal in its power
Oh
While the earth and moon
Are spinning
Romancing satellites
Faithful to the rhythm
Of an extraordinary rhyme
Somehow
Oh, but somehow
(Chorus)
KICK
Written by Laurie Freelove
Kick
Alright guitar
'Cause you want to night and day
Just to close your eyes and do it right
There's a hum on in your head
Still it's true you can feel it
In everything you do
Never mind if they never talk
'Cause you'll be talking to 'em
It's your life
Warm, worth the changes
Stay okay, guitar
Just play some now and then
There's a mood of blue
In the summer hue
It takes care with living in
This world unmade by
Hands on graves and
Mindless senseless whim
Never mind if they never hear
The earth and planets spin
It's your life
Warm, worth the changes
Yeah okay, today
When your life is moving fast
And giving is what you used to feel
Was way too much to ask
And killing time was nothing more
Than wasting for defeat
It didn't take you any place
You haven't already been
It's your life
Warm, worth the changes
Do it right
Right now
While the music's in your soul
The poetry's in breaking ground
Where no flower would grow
So build a world
From sticks and stones
And heal it from within
Any place that you lay your heart
Is a place your heart could live
It's your life
Warm, worth the changes
Change your mind, change your soul
Change your luck, change the whole
Change the time, change the role
Change of heart, change to go
THE HOLLAND SONG
Written by Kathy Korniloff
Early morning
A soft light strokes your face
Your warm breath whespers
From a dreaming place
The shiny streets of Amsterdam
Embraced our native guise
Now I wrap your love around me
And I arise
A cup of coffee and I'm on my way
It's a Nederlandse rainy day
My heart is open and it's on display
In this watercolor land
I love a new view
New colors coming to light
Windmills in the green
Against a grey sky
These Dutch are too much
They built this land from the sea
Crissing-cross canals
An old technology
A stroke of genius in a paper cup
I'd like to stroke your face
And wake you up
A stranger's smile and a stroke of luck
In this watercolor land
We've found a new ground
Exploring dauntlessly
We're friends and we're lovers
No apology
I spend the morning in a warm cafe
North Sea breezes
Blow your love my way
I've got a feeling
That we're going to stay
In this watercolor land
* All lyrics © copyright by Two Nice Girls/their co-writer(s) if any/their publisher(s). All rights reserved.
You can use these lyrics to learn how to play these songs, or other fun and limited personal use such as that. They're not for you to use to make money. When in doubt of fair usage, write to us and ask.